Top Sector Life Sciences & Health Activities in 2016

Top Sector LSH organised many activities in 2016 such as facilitating new public-private partnerships (PPP), supporting entrepreneurs, and international representation. The branding name Health~Holland has popped up in many places during the previous twelve months. This overview details the main accomplishments of Top Sector LSH in 2016.

You can read more about the topics by clicking on the icons.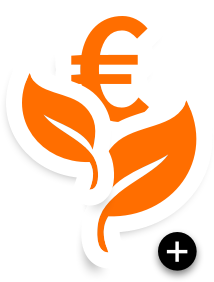 Financial
potential of LSH

Growing public-private partnership potential in the LSH sector

Top Sector Life Sciences & Health (LSH) builds upon and collaborates with the various public-private partnerships (PPP) in the Netherlands that are working on life sciences technology, imaging, molecular diagnostics, pharmacotherapy, regenerative medicine and healthcare solutions. The Top Sector brings together stakeholders in a shared, consolidated innovation infrastructure. By means of PPP-Allowance (formerly known as TKI-Allowance), the Top Sector provides a financial instrument to help consortia consisting of research organisations, knowledge institutes, companies and health foundations to realise their innovative ideas.
Financial potential
Due to the growing LSH sector and better familiarity with the PPP-Allowance regulation, the financial potential of the PPP-Allowance has increased exponentially: from €4M in 2013 to over €30M in 2016.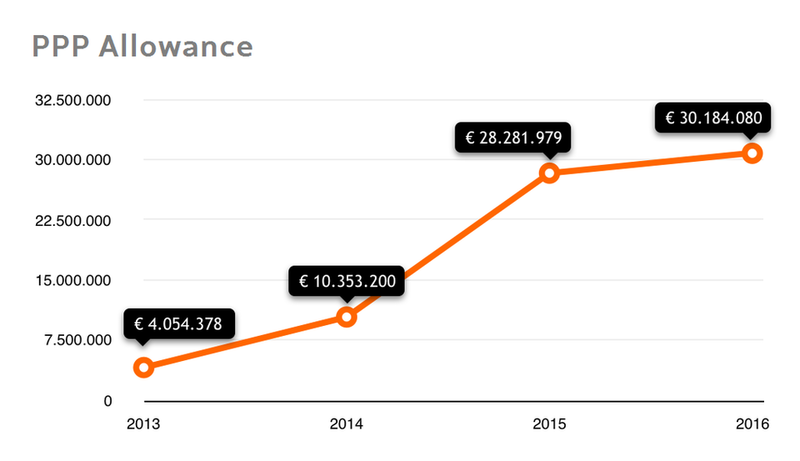 Project applications
Since 2013, a growing number of researchers and entrepreneurs have applied for the PPP-Allowance each year and the total number of applications per year is still growing. The current innovation climate is contributing to a greater and better collaboration between science and industry. Besides a growing number of applications, the size and potential impact of the applications is growing as well. In 2016, many national initiatives were officially launched such as RegMed XB and Top Institute Oncology. In addition, the Top Sector LSH is increasingly involved in the research calls of ZonMw (Post Translational Research, Create Health) and Health Foundations so as to ensure more alignment in the innovation climate of the LSH sector.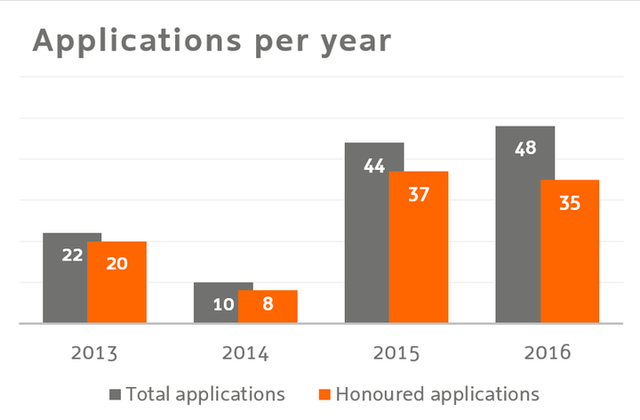 Strategy Development: Human Capital Agenda

This year Top Sector LSH continued to realise the Knowledge & Innovation Agenda 2016-2019 and execute the Innovation Contract 2016-2017. However, with a view to the future sustainability of the sector human capital has become more important. It is vital for realising ambitions, raising quality and fully develop promising new techniques and insights that will keep the Netherlands at the forefront of science and innovation. Education and training therefore needs to be flexible enough to teach new skills quickly and efficiently. This includes a greater emphasis on life-long learning and on-the-job training as well as involving entrepreneurs in educating students and experienced professionals.

The new Human Capital Agenda 2016 of Top Sector LSH will meet all the criteria needed to provide the Netherlands with the employees of the future.
Startups & New Ventures:
​LifeSciences@Work Programme
Top Sector stimulates valorisation

Setting up new companies is one way to bring innovation to the market. In the Life Sciences & Health (LSH) sector this is a vitally important valorisation mechanism. Top Sector LSH supports academic researchers who want to translate their inventions into new businesses, as well as startups that are ready to scale up their existing activities. The Top Sector therefore powers the LifeSciences@Work Accelerator (LS@W) that helps scientists build their business.
Venture Challenge

As part of the LS@W accelerator eleven new startups were coached in 2016 and they developed a solid business case in two successful Venture Challenges. The startup Mercurna won the spring edition with their venture to develop first-in-class precision medicine for chronic kidney disease. The winner of the fall edition, RadiQual Surgery, developed the Logi-Knife, a tool that enables surgeons to make use of high-quality diagnostic imaging data for real-time 3D surgical navigation during their surgical procedures. This spring a new edition of the Venture Challenge will start. Applications should be submitted before 6 March!


Expert Classes
In 2016, LS@W organised four inspiring Expert Classes in collaboration with its close partners, Loyens & Loeff, Science Affairs, Netherlands Enterprise Agency and BioGeneration Ventures. Topics that were addressed included respectively legal aspects, communication, fiscal aspects and finance. Expert Classes are an excellent way for Venture Challenge participants, LS@W alumni, mentors and experts to exchange knowledge and experiences. LS@W will continue organising Expert Classes this year.
Value Centre

A new joint activity between LS@W and Medtech Partners is the Value Centre. In the Value Centre startups with growth ambitions can apply for a voucher of 10,000 euros to hire specialist advice to enable them to speed up their market introduction. All innovators that need help from a third party to further develop their product or business case apply for the voucher, with the exception of production-related questions. Eighteen entrepreneurs were successfully helped with a voucher in 2016.
Tide Microfluidics – Quirem Medical – Haermonics – Novuqare – Inzentiz – WOLK Company – Ultimate Stability – Infinite Trading Company – Preceyes – Mellon Medical – eNose Company – Inreda Diabetic – Usono – Toxys – Adjuvo Motion – Joco International – Prolira – Vacis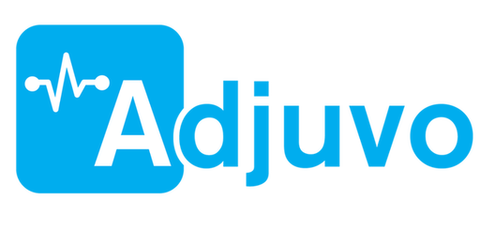 Gijs den Butter, Adjuvo Motion: "Thanks to the value voucher Adjuvo was able to perform a health technology assessment, which could show the health and financial benefits of using the Sense Glove in hand rehabilitation. Furthermore, the HTA helped the company to focus on one patient group and set requirements for the clinical testing phase."


Rutger van Merkerk, Prolira: "With a value voucher Prolira was able to acquire the advice of consultants on the implementation strategy of our medical device and on health technology assessment. Both highly relevant aspects (from a user's perspective and a buyer's perspectives) for convincing our customers to buy and accept the DeltaScan, Prolira's medical device for objective delirium detection."

Successes of LS@W startups in 2016
Investments
MyLife Technologies secured new growth capital

Nightbalance gets a €12.5M investment
Toxys received growth capital to develop toxicological tests
Partnerships
Cristal Therapeutics announced strategic partnership with iTeos Therapeutics
Nutrileads announced collaboration with DSM Nutritional Products
EdgeLeap partners with €9M research programme to fight heart failure
Other
Prolira makes early detection of delirium possible
Pluriomics receives €3.2M Horizon 2020 SME instruments grant
Nutrileads wins prestigious Eurostars Grant
MaMaLoc won Amsterdam Science & Innovation award 2016
Core Life Analytics B.V. launched online platform HC StratoMineR
Illumina bought LS@W startup TromboDx for €70M
For further information please visit the LS@W website or subscribe for the news flashes.
​Health~Holland Communication

Throughout the year Top Sector LSH continuously communicated via its website and bimonthly Updates. However our communication efforts involved far more than this. See what has happened under the flag of Health~Holland.
Website
With more than 2000 visits per month the official Top Sector LSH website is the central information point of the Dutch LSH sector. Find the latest news, events, calls and relevant publications on the website.
Bimonthly Updates
Five Health~Holland Updates were published last year. This online magazine brings you the latest insights and developments from the Top Sector Life Sciences & Health. Go to the homepage of Health~Holland website to subcribe for the bimonthly Updates.
Health~Holland Guide
A new Health~Holland Guide has been developed to enlarge the national and international market of Life Sciences & Health SMEs. The guide contains more than 110 company profiles with short descriptions of their business services, which is supported by a thematic matrix of all companies.
National Events
In 2016, the Top Sector organised a meeting for regional LSH clusters and the Get Together for health foundations and companies (12 May). It was the main partner of the Dutch Life Sciences Conference and Innovation for Health and it hosted its first webinar on venture capital. Furthermore, Top Sector LSH was present at many great national events like the Dutch Life Sciences SME Event, World of Healthcare, Health Valley Event, Building the Future of Health, Technology for Health, Holland High Tech, and the Health-RI meeting.
International Events
The Health~Holland Pavilions at the BIO International Convention, BIO Europe's and Medica were once again a great success and are continuously growing. In addition, the Top Sector LSH joined in many international visits like ConHIT, China, Brazil, Colombia, and many more. A special thanks to the Task Force Health Care and the Netherlands Enterprise Agency who are responsible for the representation of the Dutch LSH sector during international LSH missions.
Social Media
Top Sector LSH keeps an eye on the latest news via the Health~Holland twitter channel, with almost 800 followers and an LSH group on LinkedIn.
International Branding
An update of the International Branding of Health~Holland was completed in 2016. This resulted in an animation on the strengths of the Dutch LSH sector and handy tools that can be used to promote our sector internationally.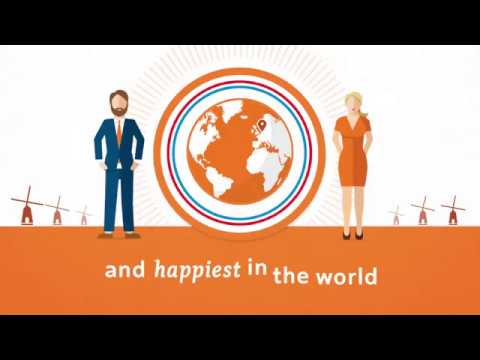 Project Page
The Health~Holland website has been enhanced with a new feature. From now on the new project page illustrates which projects have received funding from Top Sector LSH since the start of the Top Sector policy in 2013. The relevance and objectives of each project are briefly described and some of the latest innovations in (bio)pharma, medtech and healthcare are shown in the fields of prevention, care, or cure. Please take a look at the new project page and let us know what you think.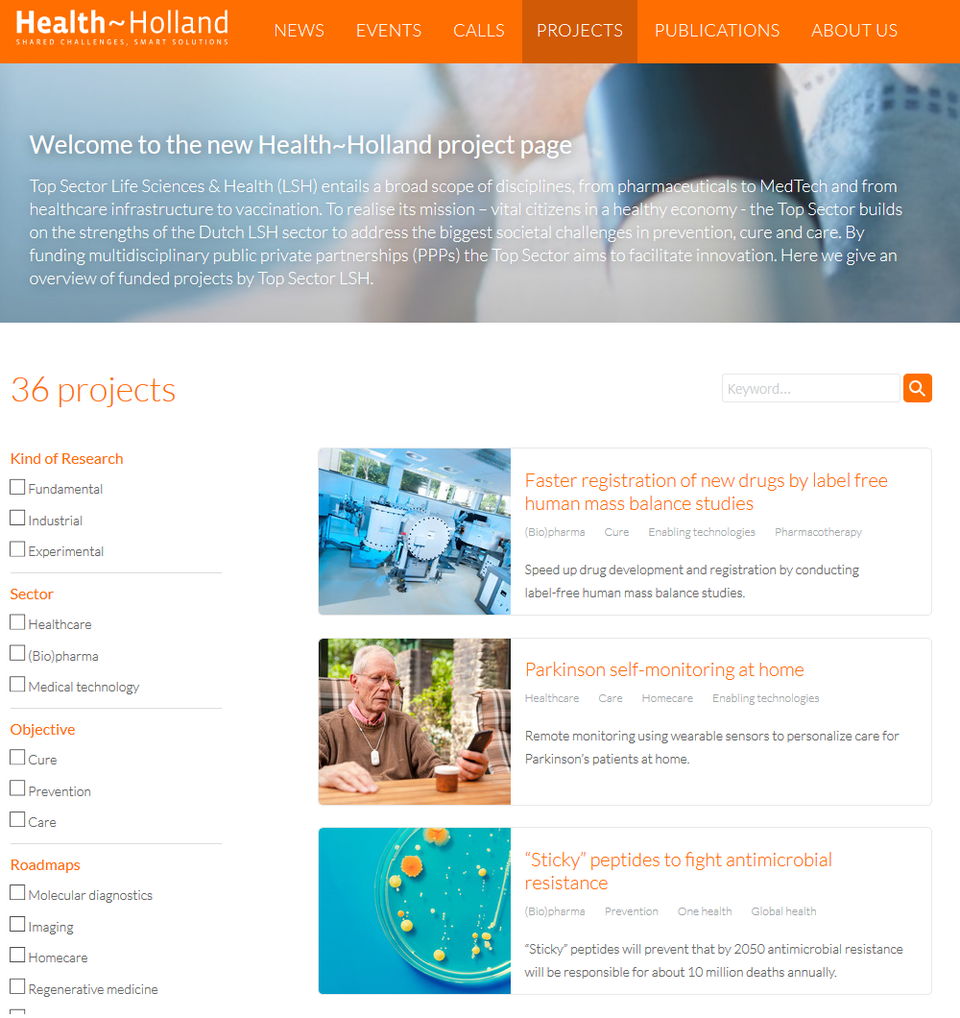 Forming coalitions with other Dutch Top Sectors

Joint innovation-activities

With the Dutch National Research Agenda in mind, Top Sector LSH realised a further increase in cross-sector initiatives during 2016. Our focus needs to be on the cross-sector future of the Top Sectors and their ambitions to collectively help tackle grand societal challenges, like the ageing of the population and sustainability.
Create Health & Health-RI
One of these challenges in the LSH sector is sustainable health, a challenge shared with the Ministry of Health, Welfare and Sport. LSH and the Ministry therefore invested in eHealth developments via the Create Health call together with CLICKNL (Top Sector Creative Industry), NWO and ZonMw. Furthermore, the collaboration Health Research Infrastructure started to invest in the initial development stages of a public utility for data traffic for the health sector.
Antimicrobial Resistance
The Top Sectors Agrifood, Chemistry and LSH jointly invested with the Netherlands Centre for One Health (NCOH) and the Ministries of Health, Welfare and Sport and Economic Affairs in the development of a public-private partnership for antimicrobial resistance that will see the light in 2017.
Health Diet for a Healthy Life
The joint programme initiative (JPI) Healthy Diet for a Healthy Life (HDHL) helped to establish a knowledge platform for the intestinal microbiome and nutrition via the co-funded call ERA-HDHL Biomarkers for Nutrition & Health published in 2016. This was a joint call with the European Commission in the field of Top Sectors Agrifood and LSH.

Plans for 2017
This year the cross-sector efforts will further be intensified, for example to tackle the societal challenge of the ageing population. In 2017, the European call 'Ageing in a digitising world' will be published. This call from the JPI 'More Years, Better Lives' is aimed at how the wellbeing of the elderly, at all stages of later life, is supported and promoted through the design of the physical environment, the use of technologies, and access to opportunities to learn.