Health~Holland webinar about PPP-Allowance

Researchers and companies active in the Life Sciences & Health sector are continuously searching for suitable ways to fund their R&D. The Public-Private Partnership (PPP) Subsidy of Top Sector Life Sciences & Health (LSH) aims to provide funding for public-private consortia. This afternoon (31 January), the webinar will discuss the details of this funding opportunity. After attending, this so-called PPP-Allowance (former TKI-Allowance) of Top Sector LSH will therefore no longer have secrets for you. You will learn whether the instrument is suitable for your specific R&D projects, what it entails for you and your consortium partners, what the requirements are, and how to submit a proposal. As a seasoned biotech entrepreneur and member of the Top Team LSH, Hans Schikan will host the webinar. Our guest speaker, Ernst Nagel, operational director of Top Sector LSH, will unravel all secrets of the PPP-Allowance. During this interactive webinar, there will be ample opportunity to ask questions. Don't hesitate and join us online!

​
Health Valley Event: patient-driven technology
The theme of the Health Valley Event 2017 will be patient-driven technology. The first keynote speaker sharing his vision to this topic will be Hans Clevers. Two other inspiring sessions will be held by Jan Kimpen, CMO at Philips, and Dianda Veldman, Director of the Dutch Patient Federation.
Health-Holland will attend the exhibition. More information can be found on the website.
​
PPP-day: Innovation through co-creation

Tuesday March 7 Top Sector LSH and ZonMw organise a get-together about public-private partnership (PPS) in the Jaarbeurs, Utrecht. The day will provide a varied programme about "Innovation through co-creation" for researchers, companies and health foundations. Free registration can be done via this link.​​​​​​​​ More information about the programme can be found on the Health~Holland website.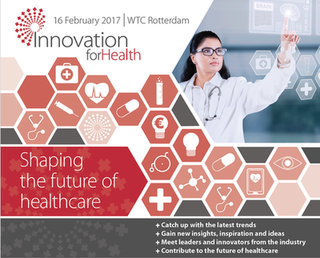 Continuous innovation by collaboration
The fourth edition of Innovation for Health is about to start. This biggest Life Sciences and Health conference in the Netherlands provides the ultimate opportunity to meet key players in this sector and catch up on the latest trends and innovations. I am proud to be chairman of this inspirational event where professionals from bench to boardroom and start-up to multinational can meet and exchange views.
The Dutch are known for their collaboration and networking skills. Sharing knowledge and innovation is also demonstrated in an increasing number of public private partnerships in the Life Sciences and Health sector. Recently, large consortia were launched in the fields of oncology and regenerative medicine, where knowledge institutes and companies, often SMEs, work together supported by the government. These 'triple helix' partnerships focus on innovation and subsequent valorization. Through public private partnerships innovation in new treatment paradigms, novel medicines and diagnostics, and new interventions can be realized.
Innovation for Health is an excellent way to connect with people who are committed to Life Sciences and Health. Being there will allow you to start or extend collaborations and to broaden your network, thanks to the many speaker sessions, innovation pitches, one-on-one meetings and corridor conversations. We welcome all regional and (inter)national attendees with a passion for Life Sciences and Health to participate and shape the future of healthcare together.
Kind regards,
Hans Schikan, Chairman Innovation for Health and Top team member of the Top Sector Life Sciences & Health
​
2017 Preview
2017 promises to be quite a dynamic year, politically, businesswise as well as scientifically. As partners of the Top Sector we all stand to benefit from it and want to share these benefits with society.
Given the many elections for new parliaments, especially in the Netherlands in March, some changes can be expected both nationally and internationally. The new Dutch government will shape the future of the Top Sector policies. We expect it will be in line with our increasing success during the recent years.
At the Top Sector Life Sciences & Health (LSH) we belief that our political leaders, parliament and the new government will adopt the proposition of the Knowledge Coalition, as described in the Dutch National Research Agenda.
If their proposition is adopted the sector will become even more vibrant still, as can be seen from all the national and international events. All things being considered, our cooperative groundwork in 2017 is going to be paramount for the success of the sector and our mission set in the previous years: vital functioning citizens in a healthy economy.