Top Sector Life Sciences & Health Activities in 2015
Top Sector Life Sciences & Health had a busy year with a wide variety of activities. This overview illustrates Top Sector LSH's main accomplishments in 2015.
This year started with some changes in the team. First of all Nico van Meeteren was welcomed as the new executive director. Shortly afterwards Jan Raaijmakers became the new chairman of the Top Sector LSH. In addition, all communication activities now occur under the name of Health~Holland.
During 2015 the following activities were realised.
​Buildup of Financial Potential of LSH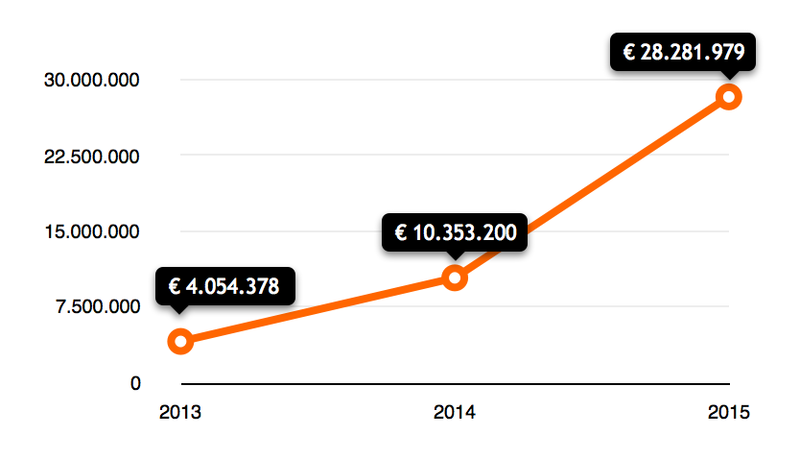 Startups & New Ventures:
​LifeSciences@Work Programme
Top Sector stimulates valorisation
Setting up new companies is one way to bring innovation to the market. In the Life Sciences & Health sector this is a vitally important valorisation mechanism. Top Sector LSH supports academic researchers who want to translate their inventions into new businesses, as well as startups that are ready to scale up their existing activities. The Top Sector therefore powers the LifeSciences@Work Accelerator (LS@W) that helps scientists build their business.
Venture Challenge
As part of the LS@W accelerator twelve new startups were coached in 2015 and these developed a solid business case in two successful Venture Challenges. The startup Conquest won the spring edition and recently Synamp Pharmaceuticals won the fall edition. Apply now for the new Venture Challenge round.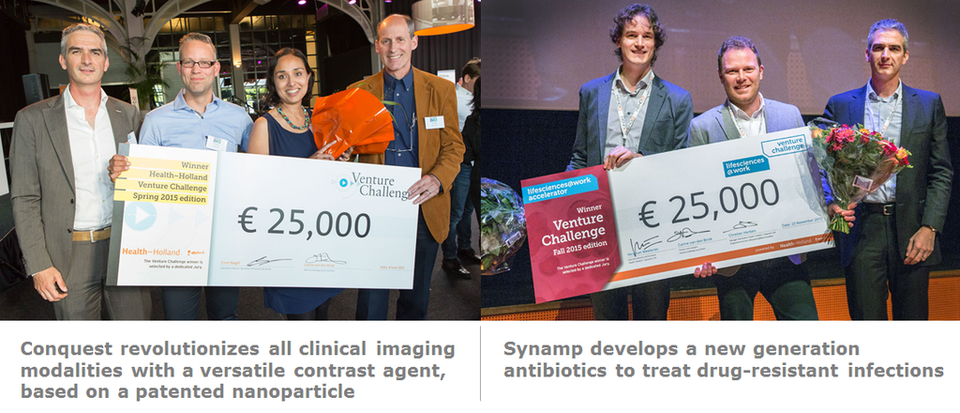 Value Centre
A new joint activity between LS@W and Medtech Partners is the recently launched Value Centre. In the Value Centre startups with growth ambitions can apply for a voucher of 10,000 euros to hire specialist advice to enable them to speed up their market introduction. All innovators that need help from a third party to further develop their product or business case can pursue the voucher, with the exception of production related questions. Currently, four entrepreneurs have successfully been helped by a voucher in 2015 (Inreda, Tide Microfluedics, Quirem Medical and Novuqare) and several requests are in progress.
New partnership
Towards the end of 2015 Loyens & Loeff joined LS@W as a partner bringing their expertise and experience in legal affairs and tax. Life Sciences startups are mostly active in an international context and handle highly sensitive personal health information. Having a legal and tax partner on board that is familiar with the sector and internationally focused is particularly useful. Loyens & Loeff has the experience and know-how required to help LS@W startups prepare for their international endeavours. For further information please visit the website.
Successes of LS@W startups in 2015
Kite Pharma acquired T-Cell factory
Nightbalance's sleep position trainer reimbursed
Cristal Therapeutics started Phase I trails
Oncodrone received a Eurostars Grant worth 2.5 million euros
Nutrileads closed a seed financing round
Ocello announced a strategic partnership with Synthon
InteRNA Technologies closed a 10.5 million dollar series
Mimetas and partners received 1.6 million euros in industry funding
Toxys won the Biobusiness Masterclass
Khondrion reported successful outcome phase I clinical trails
Quirem medical received investment Terumo
​Health~Holland Communication
Website
The official new Top Sector LSH website was launched in February 2015. It is the central information point of the Dutch Life Sciences & Health sector. Find the latest news, events, calls and relevant publications on the website.
Portal
The Health~Holland Portal is a user-friendly online gateway that serves as the central information hub for the Life Sciences and Health sector. The portal provides information on Funding, Rules and Regulation, Research and Development, International Opportunities, Human Capital and Organisations and Contacts from the Dutch Life Sciences & Health sector.
5 bimonthly Health~Holland Updates
The online magazine that brings you the latest insights and developments from Top Sector Life Sciences & Health.
Health~Holland Guide
The Health~Holland Guide has been developed to enlarge the national and international market of Life Sciences & Health SMEs. The guide contains more than 110 company profiles with short descriptions on their business services that is supported by a thematic matrix of all companies.

National Events
In 2015 the Top Sector organised a Meeting for Regional LSH cluster and development organisations and science parks, contributed to HollandBIO's Dutch Life Science SME Event and was partner of the Dutch Life Sciences Conference.
International Events
The Health~Holland Pavilions on the BIO International Convention, BIO Europe and Medica were a great success and will be repeated in 2016. And thanks to the Task Force Health Care the Dutch LSH sector is represented during international LSH missions.
​Coalition formation with fellow Dutch Top Sectors
1. Create Health – Top Sector Creative Industry (dementia)
2. Intestinal Microbiomics – Top Sector Agri & Food (JPI Health diet for a Healthy life)
3. Many collaborations in development