​Bio Europe Spring, Stockholm
​Conhit Connecting Healthcare IT Duitsland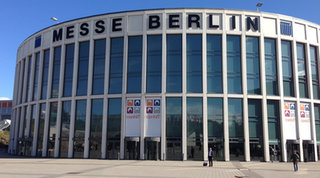 ​Health Valley event
The Health Valley Event is the meeting place for everyone who is actively involved in innovations within the field of Health and Life Sciences. The day offers a programme packed with content, including interesting speakers, a lot of interaction and extensive chances for networking. The Health Valley Event is organised by and intended for all professionals who are involved in the business, innovation and/or science of health. The expected number of participants is 1000.
The Health Valley Event offers businesses and organisations an excellent opportunity to gain greater visibility in the field of health and life sciences and to meet potential buyers or collaboration partners. This year, we have once more put together an extensive range of profiling possibilities to achieve this.
Innovation for Health
After two successful editions, the third edition of Innovation for Health will be organised on February 18th, 2016 in Rotterdam Beurs-WTC, the Netherlands, with Health~Holland (Top sector Life Sciences & Health) as the Main Partner.
Shaping the future of healthcare together!
With more than 800 delegates, over 50 influential speakers, many one-on-one meetings, innovation pitches, poster presentations, an interactive expo and much more, Innovation for Health 2016 will be a great place to catch up on the latest trends, to exchange ideas with leading innovators, to identify new opportunities for collaboration and to get inspired by the developments in healthcare & life sciences. For registration and more information, visit www.innovationforhealth.eu.
­The themes of the main tracks of the 2016 edition are:
Vital Functioning

Personalized Healthcare
Breakthrough innovations
E-health
Medical Technologies
Patient-driven Innovations
IP Transfer
Funding
Supercharge your career: join the BioBusiness Masterclass!
Biotech entrepreneurs work hard to develop next-generation treatments, healthy and sustainable foods and a range of other biobased products. In their dedication to heal, fuel and feed the world, they are the true superheroes of our time. Being a biotech superhero requires exceptional skills. The BioBusiness Masterclass teaches you to develop your entrepreneurial superpowers.
The BioBusiness Masterclass 2016-2017 starts in April 2016. Register and become a biotech superhero too!
The BioBusiness Masterclass is a hands-on training course developing the professional and personal capabilities of entrepreneurial professionals in biotech. Whether you're in the process of starting a biotech company, or working towards a management position within an established organisation, the masterclass allows you to kick-start your career. ​
Please visit the website for more information.
Innovation Expo, Amsterdam, 14 April 2016
SUSTAINABLE URBAN DELTA
More than 4000 innovators will gather in Amsterdam on 14 April 2016 to showcase the Netherlands' Sustainable Urban Delta. The Netherlands wants to share its experience with the world when it comes to urban development in the coming decades.
The Dutch have a great deal of experience as a creative, green, urban delta. Design, water management, energy transition, food production, mobility, logistics and governance are closely intertwined here, producing sustainable, smart and socially-inclusive solutions. Megacities produce 80% of growth but also of waste, worldwide. We can only save our planet by transforming the cities. Also, we have to work across sectors and integrate private and public initiative. This is what The Netherlands is good at.
The Innovation-expo takes place during the Dutch EU presidency and is part of the government's Urban Agenda (Agenda Stad) and 'Proeftuin NL, Manifest 2040'.
Innovation Expo 2016 is organized by The Netherlands' business community, science community, the promoters of social initiatives, media and public sector (ministry of Economic Affairs, ministry of Infrastructure and Environment and ministry of Internal Affairs).
Among the 4000 participants on 14 April 2016 will be business representatives, scientists, students, policy makers, promoters of social initiatives and journalists. In addition the 28 ministers of the EU Transport Council, the 28 ministers of the Environment Council and several EU mayors, ministers of the international Delta Coalition and several international trade delegations will also be present.
The three areas of interest within the grounds of the Innovation Expo are: Building the City, Healthy Living and Connecting people. Besides 140 showcases there will be top level international speakers and workshops, to be announced soon on www.innovatie-estafette.nl . Also, a number of ambitious Green Deals and City Deals will be signed in collaboration with the EU Commission. Finally, the winners of the 'City of the Future' Challenge will be announced.
E-Health week
eHealth Week 2016 is organised by the Dutch Ministry of Health, the European Commission and HIMSS Europe. This year's educational programme will focus on three main themes: Empowering People, Trust & Standards and Innovation & Transition.
eHealth policies are changing. Until now, policies have mainly focused on institutions and IT systems: today, that focus is shifting and is now being placed on eHealth users. The people who are using eHealth are becoming increasingly involved in the discussion and being placed at the heart of eHealth policy-making.

The Netherlands is one of the most digitally mature countries in Europe and is home to one of the three HIMSS EMRAM Stage 7 hospitals in Europe as well as having eight Stage 6 hospitals: it is an ideal place for the European eHealth Community to come together!