Partnerships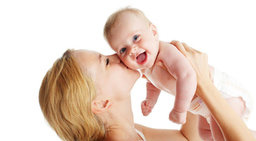 TNO is one of the partners of Topsector Life Sciences & Health. With their PAMPER project they focus on microdosing of drugs in children.
Still little is known about the effectiveness and safety of drugs in children. Despite increased attention for drug research through legislation and public funding, almost half of medicines is still prescribed off-label to children. Microdosing is a promising technique, providing a new and safe way to investigate the disposition (pharmacokinetics) of drugs in children. This could help to personalize drug dosages for specific age groups in children.

Microdosing builds on the basic principle of toxicology: 'dosis facit venenum', meaning that the dosage defines whether a substance is toxic or not. With the microdosing technique extremely low dosages of drugs can be administered. A specialized device, the Accelerator Mass Spectometry (AMS) can determine the plasma levels of even these low dosages of drugs for pharmacokinetic studies. In Europe, the AMS technology is only available at TNO Zeist.
Microdosing creates new possibilities to carry out pharmacokinetic studies in pediatric populations with existing and new drugs, while simultaneously meeting the requirements of minimized risk and load. In particular, the low dosages of the drug, combined with the very low radioactivity, now enable us to carry out such studies with minimal risk. The pharmacokinetics of a drug are important because the absorption and residence time of a drug in the human body are crucial factors for the effectiveness. A major advantage is that with a limited set of studies in which the age-dependent development of the activity of key enzymes is examined, pharmacokinetics can be determined for a large part of existing drugs.
In addition to the Pamper project, Erasmus MC Sophia Children's Hospital and TNO are applying the microdosing technology in a ZonMW funded study, in order to map the age-dependent activity of a specific drug metabolism in the intestine and liver. First results show that it is ethical and practical, and scientifically possibly to conduct microdosing studies in children.
Treeway
Treeway is a unique biotechnology company with a mission to develop therapies to cure ALS. ALS is a neurodegenerative disease causing death on average after 3 years of symptoms onset. Treeway has been founded by entrepreneurs Bernard Muller and Robbert Jan Stuit, both diagnosed with ALS. Treeway's strategy is based on a cohesive combination of approaches which should together provide the highest likelihood of bringing successful treatments for ALS to the patient in the short term.
In combination with an experienced management team and accompanied by successful entrepreneurial and fellow skilled patients, Treeway believes that it can and will make a difference in ALS therapy development. Treeway recently announced (November 2014) that the European Medicines Agency (EMA) has granted orphan drug designation for TW001 for the treatment of ALS. TW001 is currently the most advanced drug therapy research & development line within Treeway, and Treeway plans to enter clinical phases in 2015. Inez de Greef, CEO of Treeway is very pleased to receive a major grant from the 'Topsector' LSH (TKI-LSH grant);
"This is not only an important financial contribution enabling us to start our TW001 clinical program, but also a confirmation of our strategy and mission focusing on the development of new medicines for ALS"

In addition to TW001, Treeway has research & development lines ongoing and has established several partnerships with biotech companies and academia. Treeway has also established relationships with ALS researchers and doctors globally and realized a strong patient empowerment within the target market.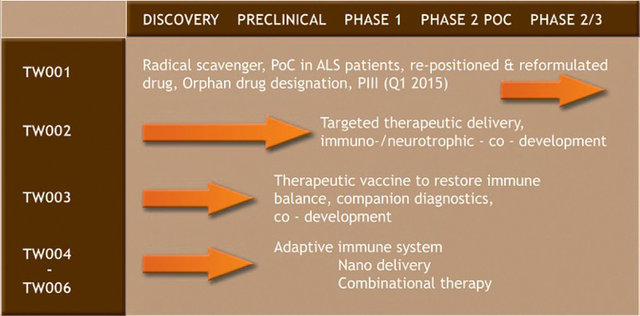 Health Foundations


In 2014 we created the opportunity to initiate partnerships with Health Foundations. These foundations have been a stable partner in funding research in The Netherlands for many years already. Tom Oostrom, president of the Cooperation of Health foundations (SGF):
"The policy of health foundations emphasizes more and more on translation of research. We believe in the importance of public private partnerships. With one goal: to get results of research as soon as possible to the patient."
By means of the impulse call ten projects that will contribute to better solutions for patients and lower healthcare costs received funding. At this moment we are working on a second Impulse Call, so stay up-to-date!