Making a difference in the world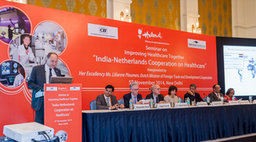 Trade missions are of great importance for the LSH sector. These missions stimulate export and increase the visibility of the Dutch sector. The past years representatives from the sector and the topteam took part in various missions all over the world. With mission leaders such as Minister Schippers (Dutch Minister of Health), Minister Ploumen (Minister of Foreign Trade & Development) and Minister Rutte (Prime Minister of the Netherlands). Even the Royal couple was part of one of the LSH missions!

In 2013 and 2014 the LSH sector was present in India, Turkey, Germany, Russia, Indonesia, Ghana, China and so on. The success of the missions is based on various aspects: the high level contacts; knowledge sharing and of course contract deals. In 2014 alone the LSH sector signed contracts worth millions. One of our successful missions was the mission to India, with Minister Ploumen as mission leader. Topteam LSH's Len de Jong was one of the participants of this mission that took place from 3 to 7 November 2014 in New Dehli and Mumbai.
Participants from Erasmus University Medical Center Rotterdam, Maastricht University Medical Centre, University Medical Center Groningen, Unicef, Royal Philips, Simed International, Taskforce Healthcare and others visited hospitals from large hospital groups such as Max Healthcare. A meeting at NAT Health, a public private association of large hospital groups, government and industry in India resulted in a memorandum of understanding with Taskforce Healthcare to work on big projects. During a visit to AIIMS (All India Institute of Medical Science) the cooperation between the Netherlands and India concerning a second campus is discussed and will be continued.​
Hospitainer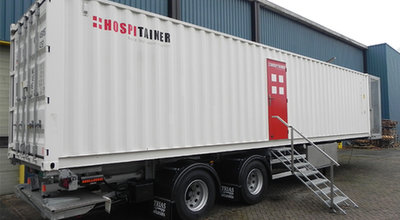 In disaster areas the lack of basic medical infrastructure can make a humanitarian situation deteriorate. Hospitainer designs and builds Hospitainers that can be used in refugee camps, disaster areas and other semi-permanent solutions. The past years the Dutch company has exported its containers to for instance Syria, the Philippines and Haiti.
Since the Ebola outbreak in 2013 Hospitainer has developed unique treatment units, containers for patient isolation and laboratories. In November 2014 they shipped medical containers to Ebola affected areas. This new approach might be a solution to better control this devastating virus.
Holland Pavilion in 2014
With the Holland Pavilion the Topsector Life Sciences & Health was present at many international events, such as the Arab Health 2014 in Dubai; the Bio International Convention in San Diego, and the Medica in Dusseldorf. The latter took place from 12 to 15 November and was visited by over 134.000 professionals and hosted over 4.600 exposants. The 222m² Holland Pavilion hosted 22 companies from the Dutch LSH sector. The daily activities such as the traditional "Meet the Dutch" networking reception provided excellent opportunities to meet companies and experts from the Dutch Life Sciences & Health sector.