Top Sector Life Sciences & Health

Synvolux Therapeutics and LUMC combine expertise to develop personalised cancer vaccines

Experiences and lessons learned of a SME on Top Sector funding

Are you an SME working in the life sciences and health sector? Do you work together with an academic partner and are you looking for R&D funding opportunities? The Public-Private Partnership (PPP) Allowance might be the way to go! We interviewed Gerben Zondag, CEO at Synvolux Therapeutics BV, on his company's development as an SME and how his company in collaboration with Leiden University Medical Center (LUMC) made use of the PPP Allowance.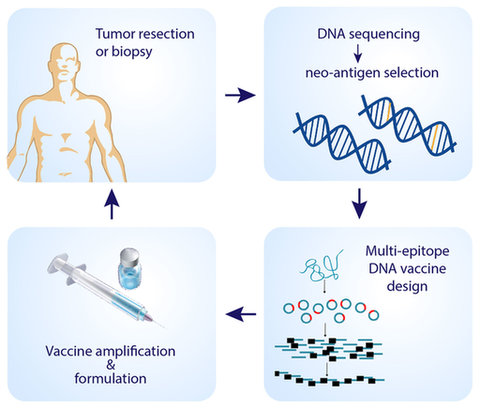 Each year more than 100,000 people in the Netherlands are diagnosed with cancer. Cancer is mainly caused by accumulation of DNA mutations in cells that can lead to the development of tumours. The fact that each tumour has a unique set of mutations and reacts differently to drugs severely hampers the development of universal therapies. In addition, tumour cells may develop resistance to cancer drugs, and most of these drugs display serious side effects. This prohibits long-term use, often leading to recurrence of the cancer.
To specifically target cancer cells, Synvolux embarked on a promising new approach to transform the tumour's DNA mutations into vaccines that train the patients' immune systems to attack their own tumours. With financial support from the Top Sector Life Sciences & Health, Synvolux together with LUMC could validate this approach in preclinical experiments.

A 'kick start' through the PPP Allowance

Generic vaccines work as prophylaxis: by teaching the immune system to recognise bacteria and viruses, people are protected from acquiring infections later in life. This is very different from cancer, explains Zondag: "Since you cannot predict the type of tumour a patient will develop, let alone which mutations will be present. Therefore, adequate immunisation against tumours would require the generation of unique vaccines that are based on specific mutations in the patient's tumour to distinguish them from healthy cells. Such vaccines are likely to improve existing immunotherapies or to prevent tumour recurrence." By combining Synvolux' expertise in delivering DNA/RNA vaccines with LUMC's knowledge in the field of tumour immunology, the consortium successfully obtained proof of concept for a new class of innovative vaccines, targeting tumour-specific DNA mutations.

The application process for PPP Allowance was time- and cost-effective and gave us the ideal start to reach a proof of concept.

Some experimental aspects of a research project can be challenging for SMEs, requiring them to collaborate with other parties. The Top Sector LSH contributed funding to facilitate the collaboration and experimental work by Synvolux and LUMC, states Zondag. "The application process for the PPP Allowance was time- and cost-effective and gave us the ideal start to reach proof of concept."


From laboratory to the patient

Based on the promising research outcomes, a new company ImmuneTune BV was founded last year, new grants were acquired, and innovation credit from the Dutch government was requested to further advance and develop the vaccine platform for the generation of personalised cancer vaccines. ImmuneTune aims to conduct a 'first-in-human' study in three years, and will collaborate with Synvolux and LUMC to realise this ambition. Their ultimate goal is to increase long-term survival and quality of life of millions of cancer survivors. "The challenge is to develop a vaccine platform that allows the generation of affordable and effective vaccines for each individual patient, to help fight cancer and to prevent it from coming back. We are fully committed to take on this challenge," concludes Zondag.