First steps taken in the relocation of the EMA to the Netherlands

In 2018, the European Parliament approved the relocation of the European Medicine Agency (EMA) to Amsterdam. The agency is responsible for the approval of medicines on the European market. EMA has to relocate due to the United Kingdom's decision to withdraw from the EU. The move of EMA has started…

Employees crossing the North Sea
The employees working at the agency preferred Amsterdam and its surroundings above the other candidate cities. According to a survey taken by the EMA itself, 81% of the employees were willing to move to the Netherlands when the agency relocates to Amsterdam. Currently, the Netherlands is supporting EMA employees as much as possible with their move. The first EMA employees are already living in the Netherlands. Some of them live in the Amsterdam region (including Almere, Haarlem, Amstelveen and Hilversum), but also many moved to The Hague, Alkmaar, Utrecht and Leiden regions. In this coming year, another 600 employees will come to the Netherlands with an estimated 550 children. The relocation also strengthens the network of the Top Sector Life Sciences & Health and has a significant economic impact due to the creation of employment, direct expenditures and many incoming visitors.

Amsterdam scored highly on its proposed premises, easy access, and everything the city has to offer the EMA's staff. That means Amsterdam is also the right choice for the 500 million Europeans who benefit from the Agency's work.
EMA buildings
Since the brand new headquarters for EMA is still being built at the "Amsterdam Zuidas" a temporary premises is available. The temporary EMA building near Amsterdam Sloterdijk has been radically modified to accommodate EMA. The EMA's temporary home, the eleven-storey Spark Building, has 850 working spaces, 15,000 m2 of floor space, and an extended conference centre. On 9 January 2019, Minister Bruno Bruins welcomed EMA in the Netherlands and handed over the key to the Spark building to the EMA with the following words:
It's crucial to millions of patients in Europe that EMA can continue to monitor the safety and quality of medicines unhindered. We're delighted to welcome EMA to the Netherlands, and to deliver this temporary home as we await the completion of the organisation's new, custom-made building.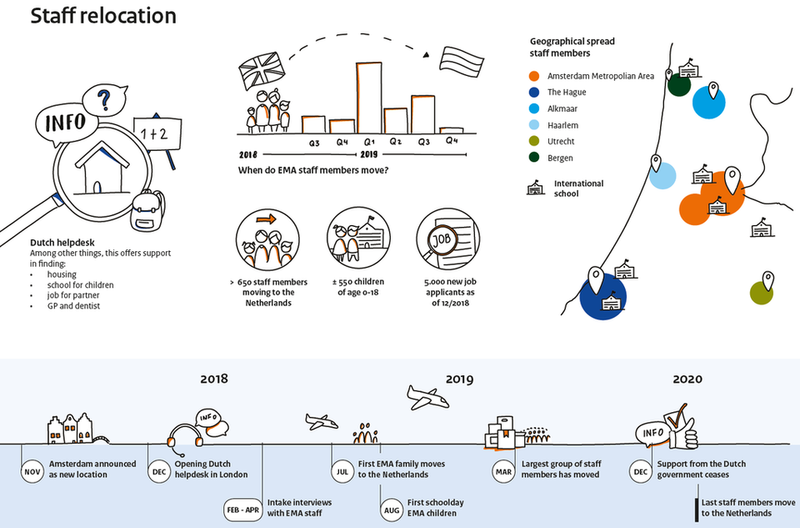 About EMA
EMA monitors the quality and safety of medicines for both humans and animals. In addition, it assesses new and innovative medicines as efficiently as possible for safety, efficacy and quality, so that they can enter the European market with the least possible delay. Finally, EMA remains ready to act quickly if there are problems with a medicine.
Click here for EMA's Tracking Tool, showing the main milestones and deliverables for the Agency's move to Amsterdam.