Topsector Life Sciences & Health
4 Highlighted Partnerships
With the strategic development of the Top Sector LSH and the publication of the Knowledge and Innovation Agenda 2018-2022, LSH was able to invest in several strategic public-private partnerships (PPPs). These strategic PPPs are supported by the Top Sector and its partners during their fundamental, industrial and experimental R&D. Four PPPs are highlighted due to their developments in 2018.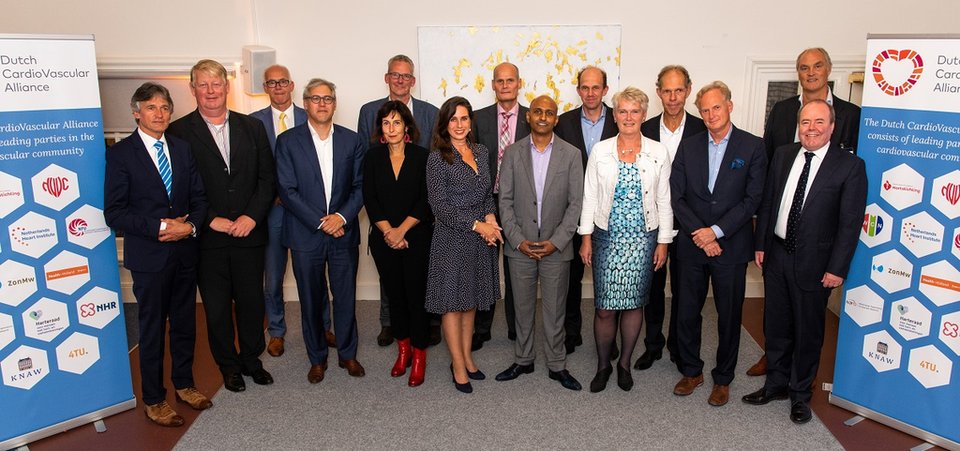 Dutch CardioVascular Alliance (DCVA)
Lowering cardiovascular disease burden by 25% in 2030

A new alliance started in 2018 to act as one voice in the field of cardiovascular research.

The Dutch CardioVascular Alliance (DCVA) was festively launched at the Muntgebouw in Utrecht on 12 September 2018. The DCVA brings together partners from academia, government, healthcare, NGOs and the investor community to act in concert, align investments and coordinate energies. While each partner will bring its own strengths and skills, the alliance will become greater than the sum of its parts. Consolidating strengths at a national level must lead to identifying cardiovascular diseases earlier, developing solutions faster, and getting them to the patient and evaluating them. The common goal is to reduce the burden of disease by 25% by 2030. To achieve this goal, the DCVA anticipates a need for at least 1 billion euros in the coming decade for research, valorisation and implementation. The 12 partners will collaborate intensively with each other and with new partners to find the required human resources and funding. In 2019, collaborations with other strategic public-private partnerships will be launched: a joint call with IMDI on medical technologies and a fourth moon shot on heart regeneration are included in the RegMed XB programme.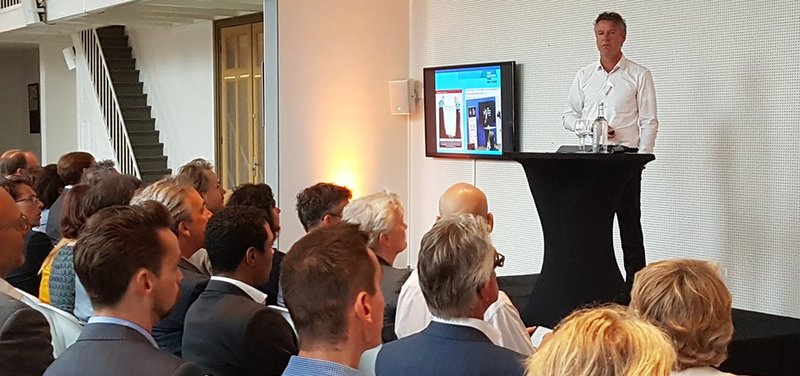 Health Innovation Initiative Holland (Hii~Holland)
Accelerating the uptake of fresh innovations into the care budgeting policies – the Hii~Holland approach

There is a surge in the number of medtech and eHealth innovations. This national initiative aims to create bridges with multidisciplinary responsibility and effort to avoid the numerous valleys of death innovators can experience.
The number of innovations in medicine is growing by the day. These range from high-tech machines to simple apps and wearables for self-management of individuals or changes in medical care pathways. The introduction, uptake and reimbursement of medicines is highly regulated, but that is not the case for non-medicinal innovations. We need to change the entire approach for evaluating all our innovations and services. The new Health innovation initiative Holland (Hii~Holland) brings together all relevant stakeholders in the development and reimbursement process at an early stage to help innovators on their road to success. In 2018, important steps were taken. A national roadshow was held by the captains of Hii~Holland. The Ministry of Health, Welfare and Sport and Health Holland are supporting the initial plans of Hii~Holland. It is quite likely that by the end of 2019 this important infrastructural highway will be completely asphalted.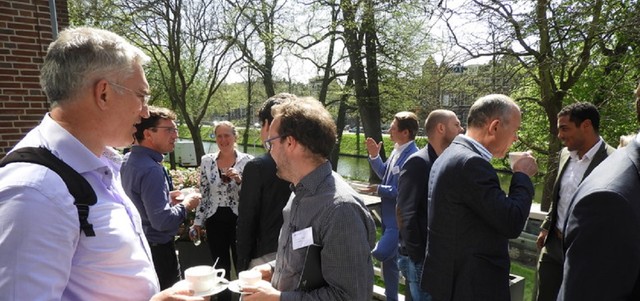 Innovative Medical Devices Initiative 2.0 (­IMDI 2.0)

IMDI technology unburdens healthcare

The Innovative Medical Devices Initiative (IMDI) develops technology to obtain manageable and affordable care while maintaining quality and accessibility. Therefore, IMDI will be of great value for many disease-specific, public-private partnerships in the LSH ecosystem.

IMDI is one of the largest public-private partnerships within the Top Sectors Life Sciences & Health (LSH) and High Tech Systems and Materials (HTSM). The IMDI focus is on research, development, and the implementation of a new generation of technology for sustainable health care; defined as health care that is staffable, affordable, accessible, and of good quality. The initiative was launched in 2010 and formed around the following three subjects: 1) imaging and imaging processing, 2) minimally invasive techniques, and 3) convalescence and homecare technology. In the spring of 2018, the initiative continued as IMDI 2.0, with a more clear direction of programme activities and close monitoring of valorisation. It will develop interactions with other strategic PPPs, such as the Dutch CardioVascular Alliance, to collaborate in calls and combine expertise.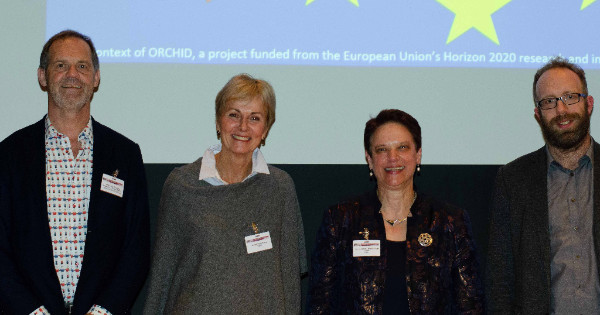 human organ and Disease Model Technologies (hDMT)

With 3D technology toward personalised treatment for present and next generations.

The new European Organ-on-Chip Society (EUROoCS) was officially launched in November 2018. The purpose of the society is to encourage and develop Organ-on-Chip (OoC) research, and to provide opportunities to share and advance knowledge and expertise in this field.

The Dutch human organ and disease model technologies (hDMT) consortium aims to develop innovative 3D human organ and disease models on chips that recapitulate healthy and diseased human tissue. Furthermore, they want to enable valorisation and stimulate implementation of these models as test systems for different purposes. hDMT and Top Sector LSH joined forces in a new call, named Health~Holland Organ-on-Chip Showcases, to stimulate the early phase in OoC technology development. After building a strong national platform and attracting substantial financial funding for R&D, hDMT expanded to a European level last autumn. The EUROoCS is one of the first outcomes of the Horizon 2020 project ORCHID (Organ-on-Chip In Development), which aims to create a roadmap for Organ-on-Chip technology and to build a network of all parties involved.
Contact hDMT
Mieke Schutte
Janny van den Eijnden